THE ACT OF DEVELOPING CONTENT TO PROMOTE YOUR BRAND AND PRODUCTS ON MULTIPLE SOCIAL MEDIA PLATFORMS IS KNOWN AS SOCIAL MEDIA MARKETING.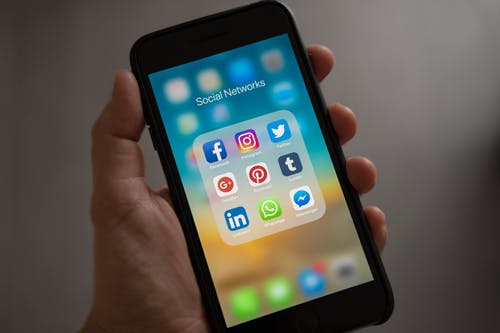 The use of social media and social networks to sell a company's products and services is referred to as social media marketing (SMM). Companies can use social media marketing to communicate with existing consumers and reach out to new ones while also promoting their intended culture, mission, or tone. Marketers can track the performance of their efforts with social media marketing's purpose-built data analytics tools.
The way we function as a society, particularly how we engage with one another, has altered as a result of social media.
WHAT IS SOCIAL MEDIA MARKETING?
Social media marketing is the use of social media to communicate with your target audience. Creating appealing content for your social media profiles, listening to and connecting with your followers, analysing your results, and executing social media ads are all part of this process. 
The most popular social media platforms include Facebook, Instagram, Twitter, LinkedIn, Pinterest, YouTube, and Snapchat (right now). Businesses can also use a range of social media management tools to help them get the most out of the sites mentioned above. For example, Buffer is a software and tool platform that may help you succeed with social media marketing.
IMPORTANCE OF SOCIAL MEDIA MARKETING
The internet connects the world, and social media networks are present in the lives of millions of people all over the world. Social media is quickly becoming one of the most significant components of digital marketing, with the ability to reach millions of customers all over the world. They assist you in connecting with customers, raising brand awareness, and increasing leads and sales.
Without a social media presence, it is nearly difficult for any business to succeed nowadays. It's a low-cost way to reach out to customers and raise brand awareness. Regular updates to the correct social media marketing strategy will result in a boost in traffic, improved SEO, and improved brand loyalty, among other benefits. So, take the first step and build a profile; the sooner you get started, the faster your business will expand.
FACEBOOK/INSTAGRAM CAN HELP YOU TO REACH ALL OF THE PEOPLE WHO MATTER MOST TO YOUR BUSINESS.
Using Facebook/Instagram to promote your business can result in a large number of potential consumers. This is the era of social media marketing, which is an easy technique to reach your target audience/visitors and possible consumers. Facebook/Instagram marketing is one of the most effective ways to get it. We are a top web solution provider that specialises in SEO. — On Page and Off Page services, as well as a full-service digital marketing firm.
TWITTER ADVANCED MARKETING
The importance of online business in marketing your organisation and product cannot be overstated (s). The best option is to invest in Social Media Optimization, which will help you expand your business. Marketing your company or product on Twitter provides you with numerous options to grow your business to the level you desire. ReputationChampions is one of the greatest companies that provides full-service digital marketing.
START USING LINKEDIN IN YOUR BUSINESS
We, reputation-champions, are a well-known firm that provides a variety of technology solutions for your company. We are one of the leading web solution providers, giving various SEO and SMO packages, both on and off page, that will undoubtedly assist you in expanding your business and/or product(s) for a long time.Our main goal is to deliver comprehensive technology solutions, high-quality service at reasonable prices, and in the most efficient manner possible.