GET THE BEST SOLUTION TO COMBAT ALL THAT NEGATIVE CONTENT ABOUT YOUR BUSINESS ON WEB.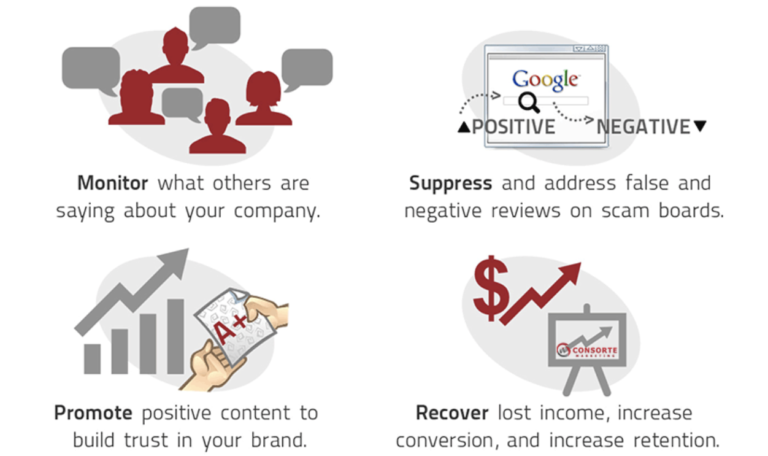 Our Online Reputation management Repair company based at India, Dubai, cleans up the online reputations of corporations, small enterprises, executives, politicians, and other institutions. Among the services we provide are: 
Google's bad search results are removed.

 

Keep brand search results safe.

 

Brand reputation marketing can help you improve your internet reputation.

 

Increasing the number of five-star reviews on the internet

 

Enhance and improve the articles in Wikipedia.

 

Improve the ranking of positive material.

Monitoring both positive and negative data online
THE PROCESS FOR REMOVING NEGATIVE LINKS FROM GOOGLE
Our team of experts makes a list of all the negative links while taking into account factors such as location, page rank, domain, and others. Our experts collect information from negative links after creating a record of them. And use various methods to reduce the ranking of these links in search engines in order to eliminate them.
Our Online Reputation repair company that you will regain your online visibility when you work with us. Reputation Champions's team of bad link removal experts works tirelessly to remove spammy links. We offer high-quality Negative Link Removal services to help your company's ranking and visibility.
HOW LONG DOES IT TAKE TO REPAIR ONE'S REPUTATION?
"How long does online reputation management take?" is a common question we get from our clients. And it's understandable.
When individuals come to Igniyte for aid, they're usually in a bad spot. The harm to their online reputation is now causing them, their business, or, in many cases, both, major problems.
Some clients are looking for a quick cure, while others are looking for a long-term strategy to improve their internet reputation and take control of the first page of search results (which, as we know, yield the most views).
How people perceive you is determined by what Google's first page of results says about you. However, swaying those search results isn't always easy.
The time it takes to remedy a search result issue is determined by the problem – negative web content must be removed from the first pages of search results for 3 to 6 months. It takes a long time to make significant changes – usually months. Some campaigns move quickly, while others take longer.
WHAT HAPPENS IF ONE CAN'T GET RID OF SOMETHING?
We can potentially reduce the visibility of problematic web content if we can't get rid of it. Search engine suppression is when Google and other search results are pushed to the bottom of the page. Better search results might be pushed up when a bad search result is weakened in comparison to others. Not only does the negative consequence decrease, but beneficial content replaces it. It's both a repair and a way to create an internet brand.
IS THERE A GUARANTEE?
Content removal is guaranteed by Reputation Champions. Wikipedia, search result suppression, and online review management do not guarantee anything, but they can all be pushed down. This is owing to the problem's complexity and variables. For over 20 years, we've been assisting brands in improving their internet reputation. We've seen everything. If we don't think we can help, we'll tell you straight out.