SAFEGUARD YOUR BUSINESS FROM VARIOUS ONLINE THREATS AROUND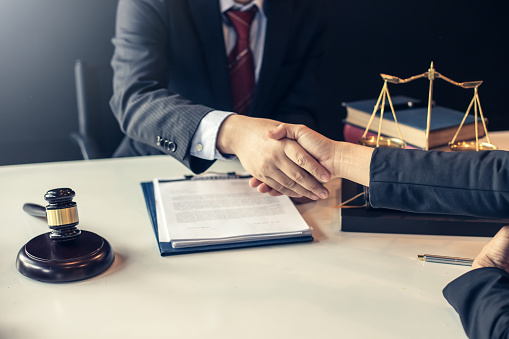 Few discussion are more crucial for a professional to maintain control over than one about his or her own reputation. Many service providers ignore their reputation, allowing it to grow, gain traction, and harden without making any attempt to manage it. Taking a proactive approach to legal reputation management will benefit professionals the best. 
Online reputation management is the strategic use of marketing, public relations, legal, and search engine optimization (SEO) methods to promote, protect, and defend your online image or business reputation.
WHAT IS LAWYERS/PROFESSIONALS REPUTATION MANAGEMENT?
It's all about online reviews for Lawyers/Professionals when it comes to online reputation management. This entails gaining influence of your brand on the most widely used review sites. The majority of online review services allow the service provider to respond to reviews publicly. A powerful reaction to a negative review could accomplish more for your reputation than having the review removed from your page.
WHAT IS THE SIGNIFICANCE OF LAWYER/PROFESSIONAL'S REPUTATION MANAGEMENT?
When potential clients are looking for a lawyer or professional, they are unlikely to click on the first business they come across and make an appointment right away. The majority of consumers will spend some time researching their alternatives by conducting a series of Google searches, visiting a few websites, and reading customer reviews. 
User behaviour has recently moved even more, with more people resorting to the internet to acquire essential business information or operational updates, and as a result, relying more heavily on online reputation to inform their decisions.
While customer reviews may not appear to be that relevant, the comments of former clients can have a huge impact on your internet reputation—both positively and adversely. It's more important than ever to monitor customer reviews and take a few basic steps to guarantee that your internet reputation appropriately reflects the quality of your company.
Because of the increased internet competition, lawyer/professional  reputation management is more vital than ever. Consider this: Google will be the primary source of information for 86 percent of people looking for.Furthermore, 98 percent say they would look online for reviews before hiring you.As a result, lawyers/PROSFFESIONALS will be competing for a spot on the first page of Google search results, as well as for the greatest online reputation.  lawyer/professional  reputation management will not only help attorneys obtain visibility on Google's first page, but it will also help them improve their online reputation, win new clients, and maintain existing client trust and confidence.
REVIEW MANAGEMENT FOR LAWYERS/PROFESSIONALS
For Lawyers/Professionals, we provide complete and economical Monitoring, Reporting, Review Outreach, and Response services. Every day, we monitor all relevant reviews for your firm that have been submitted on the most relevant business review and complaint sites. We target clients who have had a positive experience with your organisation and direct them to submit reviews on internet review sites so they can get the most out of their experience.
NEGATIVE REVIEWS FOR LAWYERS/PROFESSIONALS
The majority of customers will shun businesses that have received poor feedback. Online reputation management for attorneys is the most effective technique to promote a favourable online reputation by generating positive reviews, eliminating or suppressing negative reviews, and promoting positive content online, such as interviews, feature stories, press releases, and more.